Our Graduate programme
Our Graduate Programme is an intensive training programme for 12 months which gives you a unique opportunity to kick-start your challenging career in the IT industry.
We give you a professional platform and the methods and tools required to make a difference for our customers.
Having completed the Graduate Programme, you will have a good business understanding of the challenges you will encounter in your professional life as an employee in an international IT business.
You will be equipped to deliver the solutions we offer our customers, and you will have a strong network of colleagues across countries and business areas with whom to share knowledge and discuss experiences and issues when you need it.
Read more about your possible career path's
Read more about the company, you will become part of
Go directly to the Graduate jobs 2019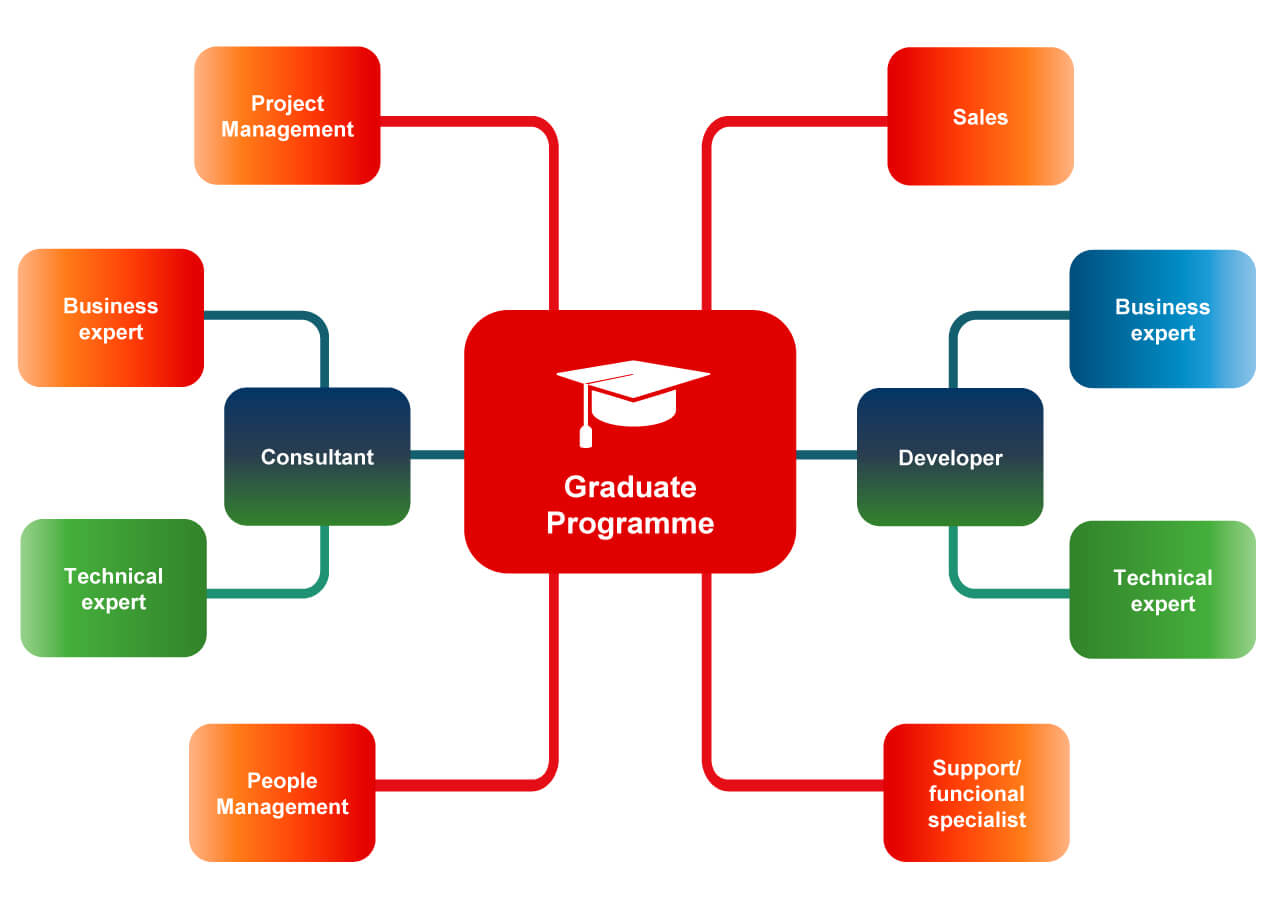 Your possible career paths
Ensuring we all have a stimulating and motivating professional life is a mutual investment for us. We want to provide you with a framework for investing your time and to become involved in your personal development.
Development and career must be understood in the broad sense as moving forward, not just upward. Development and career are about exploiting your full potential. It is about having a professional working life where you can assume responsibility and change in order to improve.
Read more about the company, you will become part of
Go directly to the Graduate jobs 2019
You will become part of ...
... a Scandinavian company within an international platform through DXC Technology, and we are growing. Exciting opportunities are constantly emerging, and you will get the chance to make a difference.
Our employees are our most important resource and providing good working conditions is a key priority.
You will be part of a comprehensive training programme together with other colleagues in the same situation. This creates a unique learning situation, and is a good start to your career.

You will find yourself working with the latest technology.

The career prospects are good.

You will be constantly developing and acquiring more skills.

You will be working on projects with highly competent and committed colleagues.

You gain a large and international network.

Proximity and expertise
We take a serious approach to the working environment, and strives to create a workplace where employees enjoy high levels of job satisfaction, commitment and ambition. We believe that satisfied employees are a prerequisite for being successful as a business.
Go directly to the Graduate jobs for 2019
When I started here, I discovered that I was surrounded by an incredible level of know-how – whenever I found myself facing a challenging task, I knew that I could always ask for advice in the next office or on the other side of the corridor. This provides a wonderful sense of security when you are new in the job, and it means that you are prepared to take on bigger tasks. Christopher Stadheim, Senior Consultant, Norway